Activities
Food Security in the Context of Climate Change: concepts, tools and practices – DAAD Summer School
19.10.2023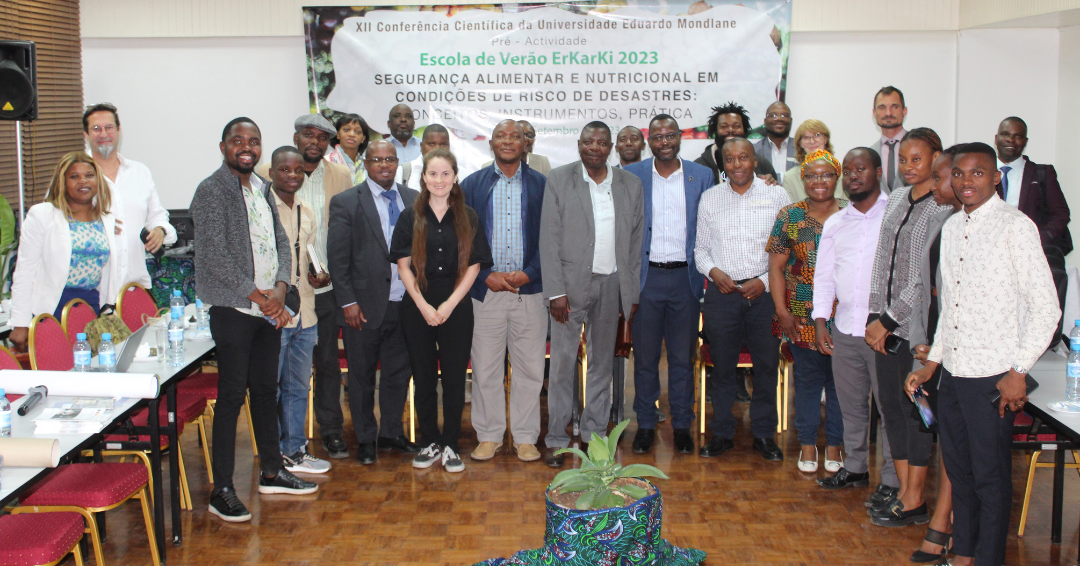 The erKaRi Summer School took place at the Universidade Eduardo Mondlane in Maputo, Mozambique in September 2023
Students of post-graduate programmes in Mozambique participated on September 11th-16th of 2023 in the erKaRi Summer School, in a hybrid format. The weeklong intense event provided opportunities of professional and academic exchange between the German and Mozambican counterparts in the following topics:
Food environments in the context of climate change
Tools for assessing the food environment
The resilience of rural food environments in the context of climate change
Modelling and predicting food insecurity
Expanding results and interventions in cooperation partnerships in the Global South
Each module consisted of presentations of the theory background, as well as case studies and lessons learned obtained from results of the FEMOZ project in its three research areas (Moamba, Ribaue and Búzi). Furthermore, opportunities to study in Germany and Mozambique were presented to the attendees with the collaboration of the University of Rovuma and the DAAD representative in Mozambique, Mr. Arne Cordts. The last days, students and lecturers jointly participated in a field excursion to the green areas of Maputo to learn about the local production and opportunities for the sector.
This event was organised in cooperation with the Eduardo Mondlane University, the Institute for Technology and Resources Management in the Tropics and Sub-Tropics (ITT) of the Technical University of Cologne and the Frankenfoerderer Forschungsgesellschaft (FFG), and funded by the German Academic Exchange Service, DAAD (Deutscher Akademischer Austauschdienst).
Some impressions of the event:
| | | |
| --- | --- | --- |
| Students of the Summer School | Participation of students | Group work |
| Session for modelling food insecurity | Field excursion | Organisation team and lecturers |
In Portuguese, the promotion of the Summer School in the "Community Journal" of the University Eduardo Mondlane, including interviews with Prof. Dr. Sabine Schlüter (general coordinator of the erKaRi Summer School and the FEMOZ project), and two students:
See our Programme here.